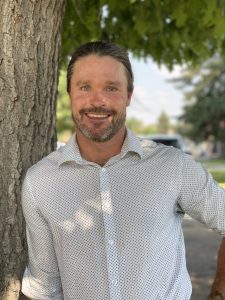 Ryan Pleune
Ryan resides on on stolen native land. His house in Hampden Heights and the school he teaches in stand on Tsêhéstáno (Cheyenne) and Hinono'eino (Arapaho) unceded territory. Land to make Denver was stolen through broken treaties that were never translated and probably not understood.
He is a bike commuter, bowhunter, back-country skier and human powered adventure advocate who has been an educator since 2000, starting as a wilderness therapy instructor for adjudicated youth in Montana. He began teaching Earth Systems and Biology at a large comprehensive high school in Salt Lake City in 2004 and has a Master of Science in Ecological Teaching and Learning. In 2006 he facilitated a Federal Small Schools Initiative at the high school and partnered with Expeditionary Learning Outward Bound for professional development.  Since then he has stayed closely connected to the ever changing EL organization even while working as a carpenter and community organizer, teaching science electives and driving the school bus for the Salt Lake Center for Science Education.  In 2014 he founded the Service and Adventure Program for Pacific Heritage Academy an EL Education K-8 public charter school and in 2019 moved back home to Denver to continue that work at Joe Shoemaker Expeditionary Learning School. He is honored and humbled to join the Odyssey community that has been a flagship for Expeditionary Learning since he partnered with them in 2006.
His heart and soul are rooted in the intermountain west bio-region but like all White Americans his relatives are immigrants.  He was born in 1977 on the South side of City Park and grew up in Park Hill at 18th and Forest.  This white block of a mixed race neighborhood stood in the border lands of white supremacy (East Park Hill Improvement Association circa 1931) and agitators for racial and educational equity (Park Hill Action Committee 1961).  He grew up in integrated DPS schools from Park Hill Elementary (1989) to Smiley Middle (1992) to Manual High School (1996).  He could call himself a Denver Native but he acknowledges the implicit and explicit bias in that term.  Ryan seeks to disrupt the patterns of historical inequity from implicit and explicit oppression by disrupting Nativism and border imperialism.  He honors the inherent beauty and nature of human migration while still being accountable to repair settler colonial oppression. His parents are from New York and Wisconsin. Their relatives immigrated to the U.S. from Ireland & Cornwall (Maternal) and Holland (Paternal). In his free time he works on climate justice transition campaigns and sometimes listens to youth wisdom before listening to adults.