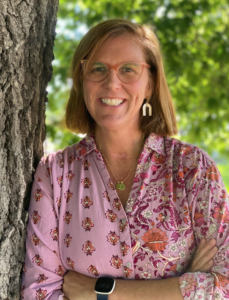 Katie Shenk
I was born and raised in the beautiful Shenandoah Valley of Virginia, but have called Colorado home for the last 25 years. I earned my bachelor degree from the University of Virginia and a Masters in Curriculum and Instruction from the University of Denver.
I first learned about Expeditionary Learning while exploring the glaciers and rivers of Alaska and immediately connected to the vision of EL. I spent the first decade of my career teaching at Odyssey and the Rocky Mountain School of Expeditionary Learning. I then joined the EL Education national staff as a school coach and curriculum designer. Most recently, I supported Tollgate Elementary School in Aurora as their instructional coach.
I am to thrilled to "come home" to Odyssey and am eager to join this amazing Crew of families, students and teachers. In my free time, I love to swim, arrange flowers, and explore and play with Henry (9) and
Hazel (7), rising 5th and 2nd graders at Odyssey.
_______________________________________________