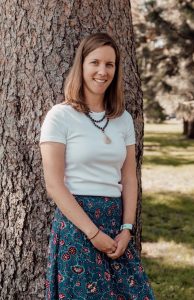 Liz Fasterling
I was born and raised in St. Louis, Missouri, but growing up I spent my summers on a sandbar in Lake Erie and my winters on a snowboard in Keystone. When I was 9 my family moved to Warsaw, Poland, for 3 years, and the international community left a lasting impact on my love for new experiences and appreciation for perspectives different from my own.
After receiving my Masters in Early Childhood Education and teaching both 1st and 2nd grade in St. Louis for 4 years, I stumbled upon some books about EL Education. When I first learned about this approach I was overwhelmed with how well it aligned with my own goals and values as an educator, and knew it was the direction in which I wanted to take my teaching career. I joined the Odyssey community during the 2016–17 school year as the K–2 math specialist, and am so grateful to now be learning and playing alongside Odyssey's youngest learners as a K/1 lead teacher.
When I'm not at school you can typically find me running, hiking, or riding my bike on local trails; planning my next camping trip; or spending some quiet time doing puzzles, looking for children's books to add to my growing collection, or trying to convince my cat, Harlow, that he doesn't need more food.