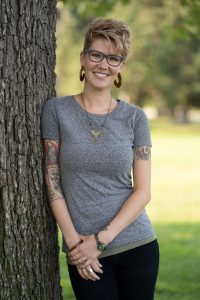 Becky Bechthold
I'm originally from the Midwest, growing up in Minneapolis and spending summers with my extended family in North East Iowa. I have fond memories of catching fireflies on the porch, camping with family, swimming in the Mississippi River, and roaming the countryside. After moving to Colorado, my love of the outdoors has only grown. Escaping to the mountains for a hike or a weekend camping trip are among my favorite activities. I landed in Denver about 9 years ago, and enjoy all the city has to offer. I am constantly inspired by local artists and exhibitions in both my own work and my teaching practice. I love researching contemporary artists and often get lost in their work, like getting lost in a good book.
I received my Bachelors of Fine Arts, with an emphasis in painting and Art Education, from Metropolitan State University of Denver. Through my studies at MSU Denver, I had the opportunity to participate in several arts programs that allowed me to travel as I learned. Some of which included Plein Air Painting at Georgia O'Keefe's Ghost Ranch, and studying abroad focusing on photography and Renaissance art in Florence, Italy.
I have always had a passion for teaching and sharing my love of art with others. I had the privilege of student teaching at Odyssey, and have fallen in love with the Expeditionary Learning model. I am thrilled to be apart of this incredible community and am looking forward to learning and growing along side our wonderful students and teachers.