Odyssey Prom, Dance through the Decades!
Annual Odyssey Auction
Saturday, March 19, 2022 6:00pm

Quick Links:
What is the Odyssey Auction? It is one of our three main fundraisers and an outstanding community-building event for our school. Whether online or in-person, the auction is a FUN evening of music, contests, and bidding!
These last 2 years have been a lot, to say the least, so this year, we are most happy to announce the Spring '22 Auction: Odyssey Prom – Dance through the Decades. We all need a break, and what better way to get together, in person, than to dance! We are grateful for you and we are grateful for this special community! We can't wait to grab a fabulous prom outfit (any decade!), invite our favorite Dance Partner (or go stag!) and raise some funds while having fun for our Odyssey community!
To serve our children with the most engaging educational programming, we need to raise at least $45,000 every year in our auction. Money raised is used for the general fund including teacher salaries, paraprofessional and mental health services, and more.
After the challenges of Covid, expanding our elementary school, our bus's catalytic converters being stolen, plus our normal general fund needs – your generosity in securing this money is more vital than ever! Our funding gap is approximately $500 per student, so your help is greatly needed and appreciated!
Grab a pen, or your phone, and mark Saturday, March 19, 2022 on your calendar today! Invite everyone you know including grandparents, family, friends and colleagues. The more people attend, the more merriment will ensue and the more money we raise for our kids!
Look for tickets to go on sale in February to attend our event in person! The link to buy a ticket will be found on our website, our Thursday Folder and Facebook and Instagram. Want to attend virtually? Bid online for our silent auction items (link also available early March)! No ticket is necessary for virtual bidding!
Donations – How can I Help? You can help a little or a lot! Our Odyssey families play a major role in this part of the auction. Here are some ideas on how you can participate:
Sponsors – These are cash donations to the school. This is a wonderful way for your favorite companies to get exposure. From having their company's name and logo displayed on our weekly communications to advertising in our annual yearbook, their name will get out to our families, friends and the greater Denver area. There are many tiered levels to choose from. Think about: Who do you know? What businesses and restaurants do you frequent? What camps do your kids go to? We believe we will foster a caring and giving community circle for years to come by supporting each other. Need a paper copy of the sponsorship letter & form to fill out to hand or email to a potential business?…we got you covered! Here is a script to ask potential donors and sponsors to follow if you'd like to contact sponsors but need a little guidance. If you have a business in mind, or want to become a sponsor yourself, here is the online sponsor/donation form to fill out. Feel free to email auctioncommittee@odysseydenver.org if you have questions or ideas.
Condos, Timeshares, Experiences (Buy-a-Shares) – Have a condo in the mountains? Want to host a party for kids or adults? Experiences sell like hotcakes and can cost little for you to donate if a couple of families team up together to offer them! Items like these are the backbone of our auction. (examples are whiskey tastings, Guy's Day Out at the Baseball Field, BBQ and bouncy houses for family experiences, etc.) Sign up with our online sponsor/donation form today!
Business Services, Gift Cards -In past years, we have had orthodontic services, personal training, home decorating, salon services and more! Are you a hairdresser, personal shopper, or own your own business? Partnerships like these help build our community circle and make it stronger. Direct our local friends to donate with our online sponsor/donation form asap! If they need more info, please give them a paper copy of our donation letter and form. Remember, all gifts are tax-deductible!
Employer matching – Ask your employer if they offer a matching program. The school is a registered 501(c)(3) non-profit organization. We can assist you with any paperwork required.
These are just a few ideas, but we are open to any others!
IMPORTANT NOTE: If you have an idea and are hesitant to ask for donations or sponsorships, reach out to the Auction Committee. We are happy to ask on your behalf! Leap In, Get Stuck, Push Through!
What Happens on Auction Night? The evening begins with cocktails or mocktails, appetizers and mingling with our fellow Odyssey parents, caregivers, friends and family, because hold the boat, we're in-person this year!! For friends and family who want to support the auction but are unable to join in-person, they too can virtually join in on the bidding (see below)! If you attend the auction in person expect to "dance through the decades" with our very own DJ Innaseoul (an amazing dad at Odyssey) spinning tunes, a photo booth, costume contest which are all the ingredients for an amazing night of raising funds while having fun for our school!
Bidding – You can scope out your favorite items through our online bidding App. You'll find great items in all price ranges. (link will be live in February!)
Silent Auction – The silent auction will be open to bidding 3-4 days before the Live auction on March 19. This is an excellent opportunity for you to invite your relatives, friends, co-workers, to support our school at a distance.
Live Auction – As the silent auction closes on the eve of March 19 (time TBD), the in-person live auction begins! Bid for a chance to win vacations in the mountains, sporting events tickets, one-of-a-kind artwork, crew projects made by your students, Teacher Treasures, bikes, baskets, lunch on the roof, Principal for a Day/Kim for a Day and more!
Buy-a-Share – Browse this section early in the evening, as they are first-come/first-serve items. These are super fun parties for adults and/or children of which you "buy-a-share" to attend. Examples from previous years: Game Night, Crawfish Boil, Ladies Bike & BBQ, Movie Night under the Stars, and a Guy's Day Out at the Baseball Field. Costs for these unique experiences vary by event, but all sell out quickly!
Recap:
After such a tough and challenging year, our Odyssey Prom – Dance through the Decades! will provide the perfect backdrop to come together in support of our community, local businesses and our special school. We hope you will join us in celebrating the Odyssey community on March 19, 2022.
(Please Note: this is an adult-only event. Book your babysitters now! We are working to figure out if we can provide a childcare option – more to come soon!)
Thank you for your support and if you have any questions or comments, please don't hesitate to email us at auctioncommittee@odysseydenver.org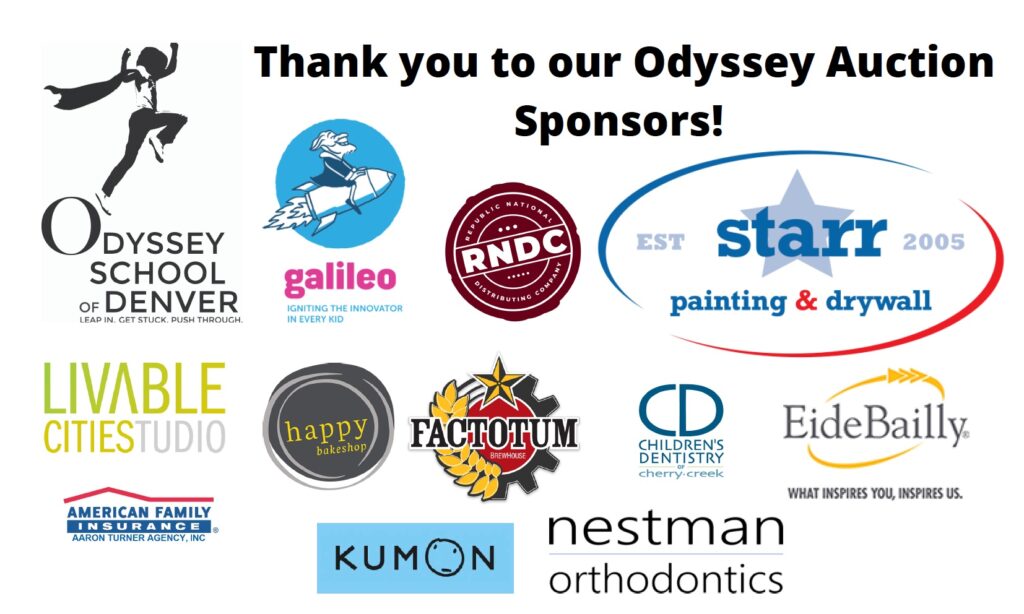 Thank you to our 2020-2021 Sponsors!
Elite Rock Climber Sponsor:
Starr Painting & Drywall
Skilled Local Hiker Sponsor:
Livable Cities Studio
Galileo Camps
Kumon
Nestman Orthodontics
Eide Bailly
S'more Extraordinaire Sponsor:
Children's Dentistry of Cherry Creek
American Family Insurance Aaron Turner
Happy Bakeshop
Factotum
Republic National Distributing Company