Superheros United!!
Annual Odyssey Auction
Saturday,

March 20, 2021 6:00pm via Zoom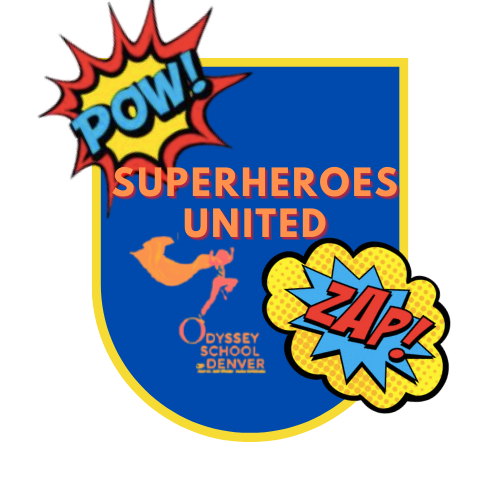 We are all Superheros! We are so excited for our spring auction!
Auction Tiered Sponsorship Opportunities
Auction Donation & Sponsorship Letter & Form (to print)
Online Donation & Sponsorship Form (fill out online)
What and When exactly is the Odyssey Auction?! It is on Saturday, March 20, 2021, Virtual and Live! Exact time TBA. It is one of our three main fundraisers of the school year and an outstanding community-building event for our school. Whether on-line, like last year and this year, or in-person, as in previous years, the auction is a FUN, FAMILY-ORIENTED, evening of music, contests, and bidding!
2020 has been a difficult year for everyone and has impacted our families in different ways. This year we thought deeply about the theme for our annual Spring Auction. We feel our families came up with a good one… We are Superheroes United! Together we can do anything! We can even beat a pandemic! We are grateful for you and we are grateful for this special community.
In order to serve our children with the most engaging educational programming, we need to raise at least $35,000 every year. Money raised will be used for the general fund which includes teacher salaries, paraprofessional and mental health services and more. Our funding gap is approximately $500 per student, so your help is greatly needed and appreciated!
What are you waiting for?! Grab a pen or your phone and mark March 20, 2021 on your calendar today! Invite everyone you know including grandma, grandpa, brothers, sisters and other family, friends, neighbors and colleagues. The silver lining of the pandemic is that we can come together in unique and fortunate ways this year (hello, Zoom!). The more people who attend, the more fun we will have and the more money we will raise for our kids! And with everything being virtual this year, virtually everyone you know can attend!!
How can I Help? You can help a little or a lot! Our Odyssey families play a vital role in this part of the auction. Below are some ideas on how you can participate.
Or, do you already know your role and how you want to contribute…click here to fill out our Donor/Sponsorship Forms.
Be a Sponsor – These are cash donations to the school. This is a wonderful way for your company to get exposure. From having your company's name and logo displayed on our weekly communications to having an advertisement in our annual yearbook, your name will get out to our families, friends and the greater Denver area. There are many tiered levels to choose from. This year, we are truly focusing on partnering with our community and local businesses. By supporting each other, we sincerely believe we will foster a caring and giving community circle this year. Are you an Elite Rock Climber Sponsor or a S'more Extraordinaire Sponsor? Check out our 2021 Tiered Sponsorship Opportunities Here!
Ask someone to become a Sponsor – Have a favorite bank, mortgage broker, dentist, orthodontist, realtor, car dealership, etc who you think would benefit from a partnership with Odyssey? (see above!) Think about: Who do you know? What businesses and restaurants do you frequent? What camps do your kids go to? We want to support all our local businesses this year! Give them our Sponsorship Letter and this link today. (Elki add the link here to donate).
Donate Condos, Timeshares, Experiences (Buy-a-Shares) – Have a condo in the mountains? Know a hotel who will donate rooms for a weekend? Want to host a party for kids or adults? Items like these are the backbone of our auction. Email them our 2021 Donation/Acquisition Letter today!
Donate Business Services, Gift Cards and other tangible items -In past years, we have had orthodontic services, personal training, home decorating, salon services and more! Or, perhaps you would be interested in sponsoring the auction? (see above!) Email your favorite businesses our 2021 Donation/Acquisition Letter today!
Employer matching – Ask your employer if they offer any type of matching programs. Our school is a registered 501(c)(3) non-profit organization. We can assist you with any paperwork required.
Ready to become a Sponsor or a Donor? Click here to submit your form! Arrangements for pickup of items are on our form.
IMPORTANT NOTE: If you have an idea and are hesitant to ask for donations or sponsorships, reach out to the Auction Committee. We will ask for you!! Leap In, Get Stuck, Push Through!
How do I attend?! Buy your tickets here. We will update this page with Early Bird prices and links soon.
What Happens on Auction Night? Turn on some tunes and pour yourself and the kids a cocktail and a mocktail! It's a family affair this year. 🙂 Don't forget to Dress Up!! Who is your favorite Superhero? Wonder Woman, RBG, Batman, Captain Planet?! There will be a costume contest so start your planning now! We will have a DJ and games and it will be a fun night.
Bidding – You can scope out your favorite items though the Handbid App. Link to come soon. You'll find great items in all price ranges.
Live Auction – As the silent auction closes, the live auction begins. Bid for a chance to win vacations in the mountains, sporting events tickets, one-of-a-kind artwork, crew projects made by your students, teacher gifts, bikes and more!
Buy-a-Share – Browse this section early in the evening, as they are first-come/first-serve items. These are super fun parties for adults and/or children of which you "buy-a-share" to attend. Examples from previous years: Poker Night, A crawfish boil, Bourbon & Bonfire, class movie nights, and a Biking Pub Crawl. Costs for these fun experiences vary by event, but all sell out quickly!
What can we expect at this year's Virtual and Live Superheroes United Auction?
Turn on your computer, have your phone charged and be ready to bid on all of our amazing items with LibbyLive, our auctioneer from the past 3 years! We'll post on Facebook and Instagram closer to the date some of our super items!
Did someone say Superheroes? YES!! DJ Innaseoul returns for another Odyssey Auction to spin Powerful hits from a wide range of genres. There will be fun games to play with the kiddos along with the Dance Party!
There will be a Costume Contest for, yup, you guessed it…Best Superhero Costume, but I already said that above, are you still reading?!!
This is the party of the year, so families, we appreciate whatever you can spare from your time and budget.
Recap!!: We just want to kick back and relax and have some fun with our families, teachers, staff, and friends after such a tough and challenging year! We think the auction is a great place to do it! Thank you for helping us lift up our favorite local businesses. We hope you will join us in celebrating the Odyssey community on March 20, 2021.
The Odyssey School of Denver is the original Expeditionary Learning school in Denver. Although located in the heart of Park Hill, our families come from all over the greater Metro Area. Our K-8 students engage in a unique adventure program that supports them in building skills in collaboration, self-care, independence and a life-long connection to the natural world. We are an inclusive, high-performing diverse school of learners.
Most Sincerely and Thank You for your consideration,
The 2020 Odyssey Auction Committee
Still have questions? Email the auctioncommittee@odysseydenver.org
Odyssey School of Denver
6550 E 21st Ave. Denver CO 80207
EIN: 84-1455288.